BendPak Mobi-EVS EV4000SL (5175428)
$10,347.00

Click to see additional Options / Models / Accessories Available
Accessories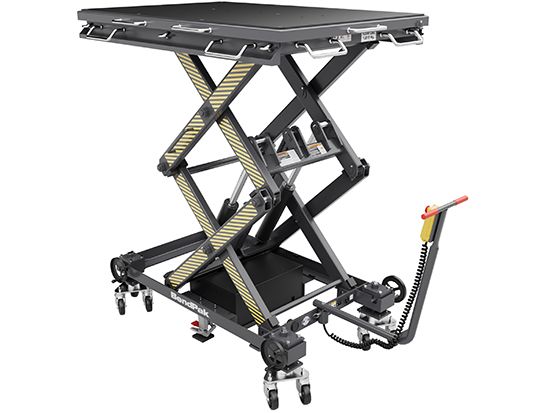 4,000 Lb. Capacity Battery Pack And Powertrain Lifting System / Portable / Scissors / Full-Rise - The Mobi-EVS is a push-around full-rise scissor lift table that is perfectly suited for EV battery pack replacement


Features
4,000 Lb. Capacity.
Low rolling resistance maintenance-free ball retainers and nylon bearings enable effortless side-to-side shifting of the tabletop for more adjustability.
Extremely durable and impact-resistant Ultra-High Molecular Weight (UHMW) Polyethylene protects the tabletop from wear and tear and provides a low-friction surface allowing technicians to shift heavy components back and forth on the tabletop with less eff
Adjustable screw jacks on each corner provide effortless pitch and roll adjustments for precise alignment and leveling of EV batteries, engine and drivetrain assemblies, fuel tanks, and more.
Integrated hydraulic velocity fuses completely stop the lift in the unlikely event of uncontrolled descent due to sudden hydraulic system failure.
Each EV4000SL has three safely lock positions (low, mid-level, and max height) which lets you select the right height for your needs.
Accessories
Other BendPak, Inc. Products